Being able to professionally document and display network maps is important for any organisation with an IT infrastructure. Codima Toolbox comes equipped with an integrated Visio diagram download feature that doesn't require any plugins and supports a wide range of map layouts. There are only two requirements to be able to use this feature, the first is that a copy of Microsoft Visio is installed on the same machine that runs your networks discoveries, the second is that you must have one of the following licenses:
Setting up Visio Export
To set up Visio downloads make sure that a copy of Visio is installed on the device that your network discoveries are performed. This is crucial as Codima Toolbox uses the Microsoft Visio application to produce your maps.


Note: You do not have to set up Visio export settings for maps to be exportable, Layer 2 Topology/Tree diagrams are created by default and stored in Toolbox. By changing the export settings, you can choose the map layouts that suit your needs best.
1. Navigate to the Discover Network tab

2. Click on the link in the Set-up column under the heading Output Set-up & Visio Maps Download.
3. A window will appear with options relating to the Visio export feature.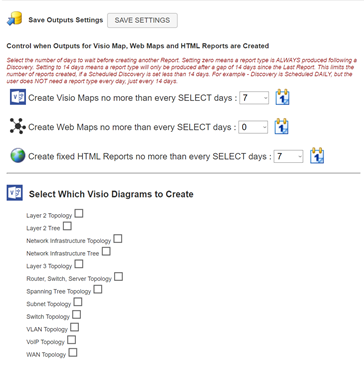 4. The option marked below in yellow allows you to select a number of days that Toolbox will wait before allowing you to download a Visio Map. This is used to limit the output frequency of Visio maps, as creating large Visio maps can take a long time, and doing so for each discovery is not always necessary.

5. Under the Heading Select Which Visio Diagrams to Create you may choose what Network Map views you would like Visio to display, by ticking the box next to them. Below you will find an explanation of what each map layout displays.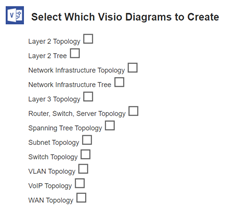 Layer 2 Topology – Shows all devices the Network Discovery found in a topology format.
Layer 2 Tree – Shows all devices the Network Discovery found in a tree format.
Network Infrastructure Topology – includes all devices that provide services to customers on the network.
Network Infrastructure Tree – includes all devices that provide services to customers on the network.
Layer 3 Topology – includes all devices that have a routing table.  i.e., they have an entry in the databases layer 3 topology table populated by the Codima Discovery Engine.
Router, Switch, Server Topology – Displays all routers, switches, and servers on your network.
Spanning Tree Topology – Displays you Network as a spanning tree.
Subnet Topology – shows all Subnet edge devices (i.e., route between Subnets) and Subnet Clouds.
Switch Topology – Shows all switches on your network.
VLAN Topology – Displays the Virtual Local Area Network Topology.
VoIP Topology – Shows all SIP Devices and important Network Infrastructure devices like Routers, Switches and Wireless access points.
WAN Topology – Shows the Wide Area Network Topology


6. Make sure to click Save Settings in order to keep all the changes made.

Viewing Visio Diagrams
Viewing Visio Diagrams can be done by anyone with access to your Codima Toolbox web interface. Keep in mind that in order to edit Visio diagrams you must have a copy of Microsoft Visio installed on your computer. If you do not have a copy of Microsoft Visio then you may use the free Visio Viewer that Microsoft offers, you can download the latest version here: https://www.microsoft.com/en-us/download/details.aspx?id=51188

1. To get access to a Visio map you must first have completed a Network Discovery. Then open the Discover Network tab, In the Main Grid at the bottom of the GUI, click on the Visio Maps(Download) link (Marked below with the arrow)

2. A grid will appear, double click the Discovery view you want to see as a Visio Diagram.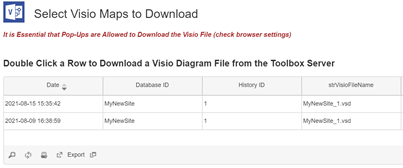 3. A download will start via the standard Download Pop-up for your browser. Visio will open if it is installed showing the Map. Typically, if there is no Visio installed then you will be prompted to install/launch the Visio Web Viewer. The Visio Web Viewer will open the map in Internet Explorer with ActiveX enabled.