The Probes Architecture is used to extend the geographic reach of the Network Discovery through an entire Enterprise. They can be viewed locally and as part of Codima Toolbox Enterprise solution used to aggregate reporting. The Probes operate in parallel giving true performance scalability and consistent access speeds. There is no limit to the number of Probes deployed. Live Web Maps and Live Monitoring can be viewed remotely, from multiple Probes on one pane of glass in real time giving a true enterprise view.
Codima Toolbox's Probes operate by having a Toolbox Manager that sends requests and receives information to/from Probes.
An example with layered Manager support is shown to the right. Probes are managed by a Toolbox Manager.

Data stays on the Codima Toolbox local Database, and exchanges information between Managers and Probes using very little bandwidth, this is good for speedy transfers and low network loading.

プローブ間通信は、ファイアウォールの問題を最小限に抑え、展開を容易にするためにXHTMLプロトコルを使用します。
Probes and managers use the same software and share the same installation procedure, making deployment an uncomplicated process.
The critical advantage of the Probe architecture is that data stays local and only information is transferred between Codima Toolbox systems. Additionally, the Probes run parallel operations, so a request for a whole enterprise view of 'what Cisco Routers are near End of Support', is processed at the same time on all the Probes, greatly speeding up the process, and minimising the retrieval time.
Network Maps on Remote Probes can be viewed exactly the same as local maps. Critically all Live Indicators like Device Down, Software Violations and Alert Matchers are updated in real-time in the Toolbox Manager system's Web Maps.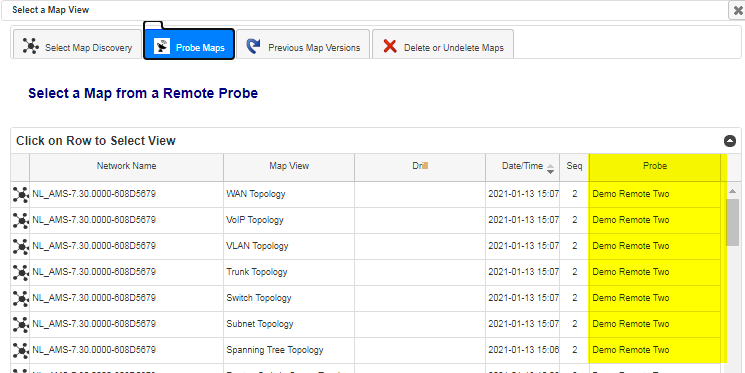 Probes and Enterprise View
The user has the option to combine Discovery results from one or more Probes through Codima Toolbox's Enterprise View.
これにより、並列に稼働しているプローブが収集した情報が自動的に集計されます。 結果は、合計値またはプローブ名ごとの内訳のいずれかになります。
Enterprise view is fully scalable enabling full coverage of a network for everyone from a consultant traveling with just a laptop, to huge corporations that need to track several networks worldwide.